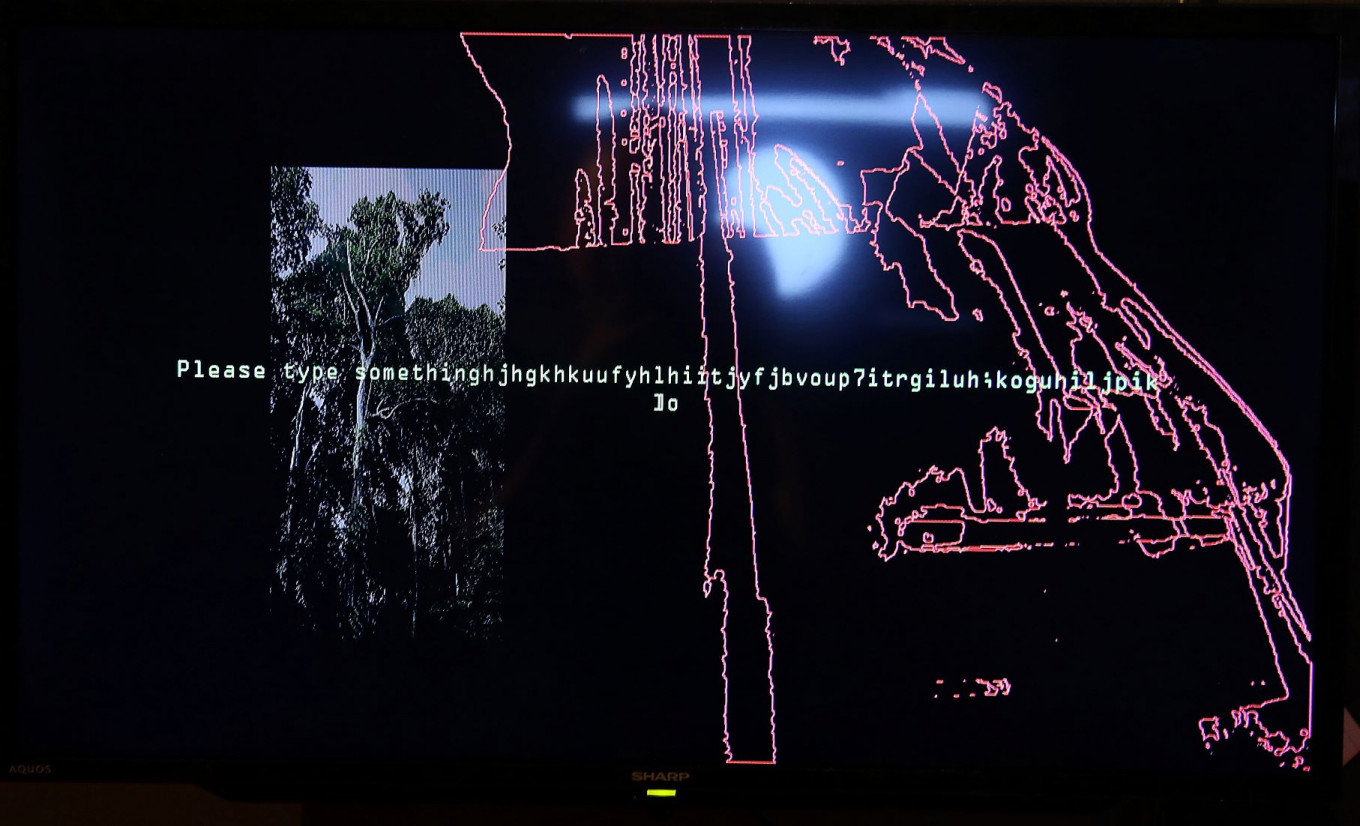 Beyond barriers: women artists evolve thanks to science, technology – Art & Culture
Millennial women artists in Indonesia enter the realm of science and technology with confidence and a whip of feminine energy, shattering the long held assumption that science and technology is a man's world.
This was particularly evident at the recent international media art festivals "Instrumenta # 2 Machine / Magic" and "Wave of Tomorrow", in which they participated along with their male counterparts.
Some of these young female artists have exhibited their works alongside great artists such as the famous Cyprus-born, Australia-based performance artist. Stelarc, whose works focus heavily on the extension of human capacities, while others have mingled with all-female shows such as "Into the Future," which featured the works of 21 artists.
"A Perfect Marriage" by Irene Agrivina (Courtesy of Irene Agrivina / -)
It should be noted at the beginning Irene Agrivina who, in addition to co-founding the female collective XXLab which produces fashion and electricity from tofu residue, shines individually with works that focus on the intimate symbiotic relationship between Azolla, a tiny aquatic fern, and the filamentous, microscopic blue-green algae Anabaena, which she called A perfect marriage.
Irene also applied a biological process aided by open source software and hardware to convert the slurry into cellulose. By combining this with several species of bacteria, including vaginal flora, to produce female underwear that protects the female genital tract from harmful pollutants.
Different and more abstract are the works of Farhanaz Rupaidha, who creates video installations and algorithmic / generative art through channel fusion to express concerns about the future of human existence.
Farhanaz created Ground for "Instrumenta # 2", through which she lays bare the fact that advanced digital technology has only moved data so that it becomes only part of the data stored on various devices.
She also exhibited the interactive piece titled Re-imagine Tribhuwana in "Wave of Tomorrow", derived from research into the history of the Majapahit era. Farhanaz was surprised to learn that aside from the oft-mentioned King Hayam Wuruk, another prominent figure in the empire was Queen Tribhuwana, who undertook extensive journeys from Aceh to Bali.
Using three interactive panels, Farhanaz illustrates the Queen's daring expeditions, with the figure depicting the Queen sliding like a ghost across maps of the archipelago to retrace her journey.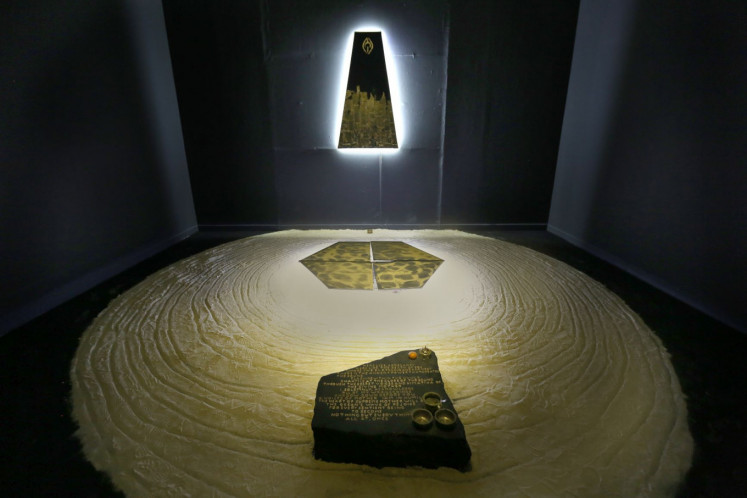 Sound machine: artist Monica Hapsari explores spiritual beliefs and teachings through her art installation "Kechari". (Courtesy of Monica Hapsari /.)
Starting from the very personal, Monique HapsarI searched for her inner self by exploring religious teachings including ancient beliefs, folklore, and mysticism.
She eventually found her way to a Himalayan Buddhist temple, where she had a hearing experience that ancient teachings believed to be the first human sense of sound.
From this basis, she explored Kimatika (cymatic), a study of vibrational phenomena and frequencies that are believed to have psychological and spiritual effects on a person, and which is sometimes referred to as "scientific witchcraft".
During her research, Monica found evidence of the phenomenon in Buddhist, Islamic chants zikir, Christian litanies and others.
She expresses her discoveries in the "Instrumenta" exhibition with Kechari, a sound installation conceived as a sort of cymatic machine. Made up of steel slabs arranged in a hexagonal shape on the ground, the machine is part of a mandala made of yellow desert sand.
By dusting the yellow sand, visitors can conjure up sound waves and frequencies from a recording of two of the oldest musical instruments: the human uvula and vocal cords.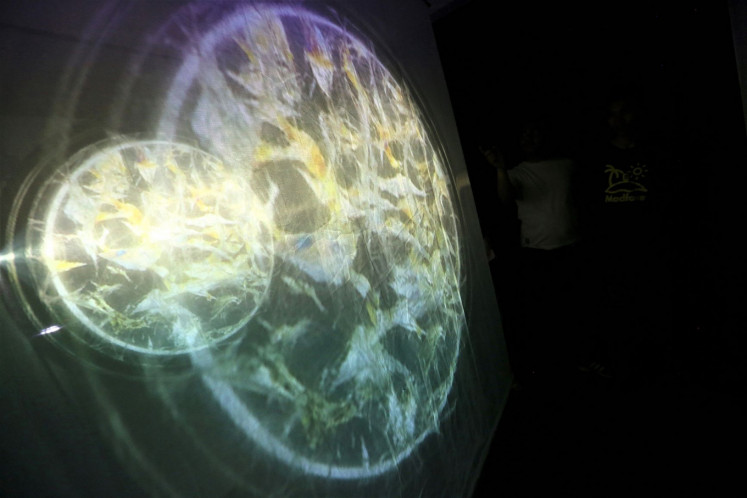 'Multiverse' by Nindya Nareswari and Maulana Ahmad (Courtesy of Nindya Naresware and Maulana Ahmad /.)
Another engaging job is Multiverse, created by Berlin-based lighting designer and artist Nindya Nareswari and designer based in Bandung Maulana Ahmad, which explore the heights of human imagination through a portal that connects our world to imagined parallel universes, presented as a projection of moving abstract images intended to evoke an imaginary and utopian world.
The germination of the work stems from Nindya's experiences with light.
"I wanted to capture the polarity of the light through a special filter," she explained.
Using multiple types of plastic, she found that each type of plastic produced a unique color when viewed through the filter, while different angles produced a variety of colors.
In a future project, she imagines connecting experiential lighting with individual human emotions, imbued with quality of life in addition, in particular when the sensor is planted in the human body.
During this time, Natasha Tontey continues to speculate on a future in which humans will no longer be the center of life.
In her From the plague to power The recently awarded video installation and performance in 2019, she said the cockroach – the only species to survive Earth's many extinction events and historic transformations – was key to environmental sustainability.
She is now exploring stones as another key to sustaining life in the future for her next video for Amsterdam's Other Futures festival in April 2020.
"The stones existed above all on earth and have an interiority equal to that of other living creatures," explains Natasha.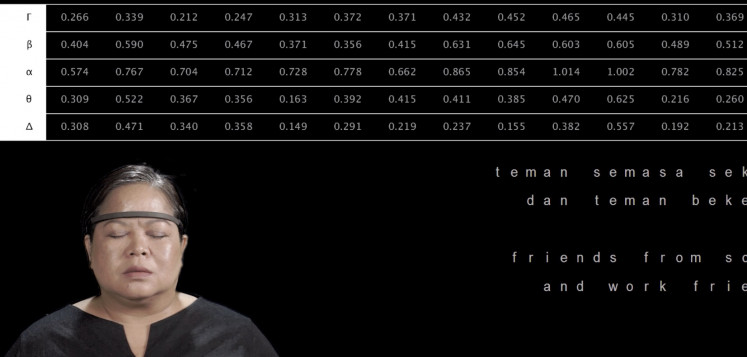 "If We Were XYZ" by Melati Suryodarmo (Courtesy Melati Suryodarmo / -)
One can only imagine how women artists will evolve alongside technological advances. But it is telling that even the famous long-running performance artist Melati Suryodarmo recently turned to technology to design its "Sleep Lab" to explore the subconscious during sleep.
The Sleep Lab documented her dreams and those of others through complex audio recordings that also measured brain waves, which she interpreted using Javanese mysticism to determine the colors of each dream.
Melati, whose latest "Why Let the Chicken Run" exhibition just opened at the MACAN Museum in Jakarta, collaborated with technologist Antonius Oki Wiriadjaja to decipher the lab data. She then turned the dream landscapes into 3-
hour of performance If we were XYZ, which was presented in October 2019 at the Asia Society Museum in New York. (ste)